Tuesday 10/17/17 – Math
Welcome to Math!
Please take out:
Module 5 packet
spiral notebook
pencil
Chromebook
Warm-Up:
Count by 4s and 8s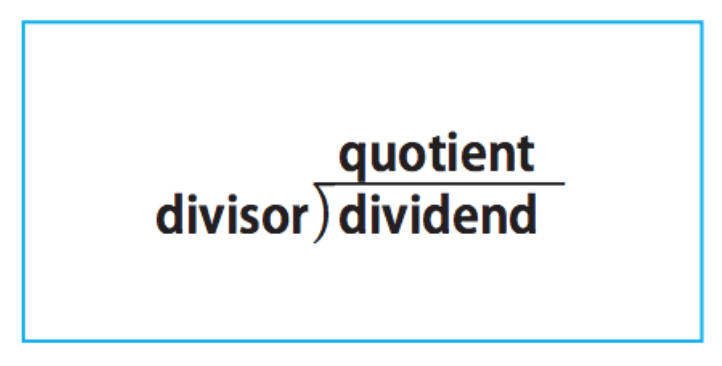 5.1: Dividing Whole Numbers
Learning Target: Students will be able to fluently divide multi-digit numbers using the standard algorithm.
Engage:
There are 10,845 books in a library. If 45 books can fit on a shelf, how many shelves are needed?
In this problem, which number is the divisor? The dividend? How could we estimate the quotient?
Explore:
Round each number to the tens, hundreds, thousands, ten thousands, and hundred thousands place:
256,341
968,398
1,245,172
2,045,917
Explain:
How can you check your answer to a division problem?
Example 2, p. 109:
What does the remainder mean in this problem?
Which value represents the dividend? Which represents the divisor?
Suppose Callie packs 10 books in each box. Will she have any books left over? How do you know?
Elaborate:
What steps should be used when dividing large numbers?
Guided Practice:
In a problem like 20 ÷ 5, which number goes inside the division house? What is this called? Which one goes outside? What is the name for this?
When would you use an estimate for your answer instead of the actual quotient?
Important Understandings:
You can use estimation to predict the approximate quotient of multi-digit whole numbers.
Use long division to find exact quotients. Copy down these steps:
Quotients sometimes include remainders "left over," which can be written with an R or as a fraction.
Expected

– 5.1 Practice
Accelerated

– 5.1 Quiz
Homework:
Expected & Accelerated:
Finish dashboard assignments.
(Switch name cards for next class.)