Welcome to Math!
Please take out:
Module 4 packet
spiral notebook
pencil
Chromebook
Warm-Up:
Counting by 9s: 9, 18, 27, 36, 45, 54, 63, 72, 81, 90, 99, 108
Discuss with your partner:
What is a reciprocal?
How do you find the reciprocal of a fraction?
If the value of a fraction is less than one, what will be true about its reciprocal?
Is the reciprocal of a unit fraction such as 1/8 always an integer? Justify your answer.
Are the two expression 1/2 ÷ 5/6 and 2 x 5/6 equivalent? Explain.
Which number above is the dividend? Which is the divisor? Which one gets flipped to its reciprocal?
Animated Math: Dividing Fractions Using Models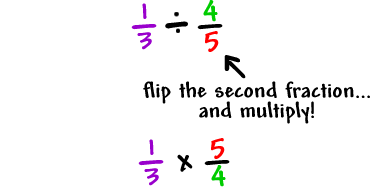 Lesson 4.2: Dividing Fractions
Learning Target: Students will be able to explain how to divide fractions.
Do 4.2 Independent Practice p. 89-90 (odds).
Homework:
Expected:
Finish p. 89-90 (odds).
Continue working on dashboard assignments until you are caught up.
Accelerated:
Do 4.2 Practice on computer.
(Switch name cards for next class.)